If you're into getting excited about and drawing grand, sweeping conclusions from the performances of players with zero NBA experience in exhibition games, then hot damn, Day 3 of the Las Vegas Summer League was for you.
Noted non-shooter Sharife Cooper is apparently actually one of the greatest shooters alive. Chris Duarte has yet to meet a buzzer-beater attempt he doesn't like—or can't make. It turns out Romeo Langford has a license to baptize.
And this is all before getting into the showdown between Cade Cunningham and Jalen Green.
As a reminder, our summer league takeaways aren't designed to overstate. They are meant to analyze and identify notable outings that could, in theory, portend regular-season breakouts, and to keep tabs on performances from the top rookies. And while each talking point is inspired by the events of Day 3 in Sin City, hearkening back to previous contests and zooming out for bigger-picture musings remains fair game.
Cade Cunningham's efficiency from the floor hasn't melted the mind, but so few, if any, players look as thoroughly in control.
Taking pull-back and behind-the-back dribble jumpers is already second nature. He drilled a viral edition of this shot against Jalen Green Tuesday night, the difficulty level on which was matched by the poise and control for the entire sequence.
Defenders already seem flummoxed by all he can do after putting the ball on the deck. He has the physicality—versus summer league opponents, anyway—to displace dudes with his shoulder and spins through traffic with clear intent. He has yet to attempt a free throw through two games, but little about his game signals this is more than an anomaly.
Modest assist totals (four in two games) don't do justice to his passing acumen. His patience in traffic is aspirational, and at 6'8″, thickets of arms and doubles from bigs aren't enough to muddy his vision. He will drop extra dimes and commit fewer turnovers when he has more practice time with teammates.
Nothing, though, has impressed more than Cunningham's defense. Committing seven fouls like he did against the Houston Rockets won't fly in the regular season, but his disruption seems eminently translatable. He knows how to work angles in passing lanes without getting burned backdoor, and I, for one, am anxious to see how many jumpers he sends back during his rookie season.
Two games in Vegas isn't a lot to go on, and summer league isn't supposed to be profoundly indicative. But there is a universality to the way Cunningham plays, an impact that is everywhere and can take different forms. He even seems like more of a floor-spacing threat off the ball than anticipated, and though he prefers to break down defenses at a more deliberate pace, he has flashed changes in gear.
None of this is revelatory. It serves more as validation. Cunningham looks as advertised—and perhaps even better than that.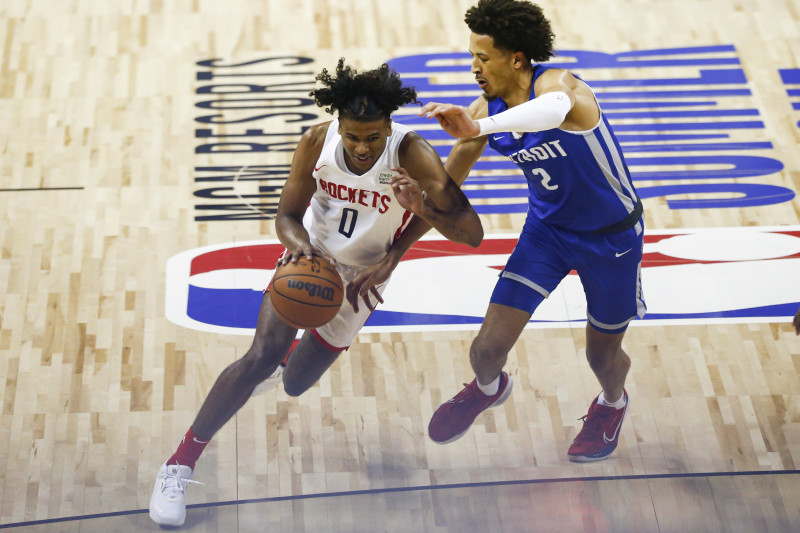 Those who thrive off drama aren't going to like seeing a pair of "As" for two top rookies who just went up against one another. Tough noogies. They both deserve it.
Jalen Green continues to look like a portrait of inevitability on the offensive end. He is going take and make some tough shots. He's going to miss them, too. But the makes are invariably going to mean more and probably outnumber the misses. You can't teach his side-step three.
Personally, I'm not sure there's ever been a cooler 25-point performance in summer league than the one he cobbled together during Houston's win over the Detroit Pistons. He went 6-of-11 from the field and 10-of-11 at the charity stripe, showing much more of a penchant for attacking the basket and drawing contact than he did during his Las Vegas debut.
Green's capacity to toggle between central hub and off-ball threat might be more impressive than anything else. He can space the floor around other attackers—he buried a catch-and-shoot three in Cade Cunningham's face inside two minutes to play in the fourth quarter—but isn't only a bystander. He will blitz the rim after giving up the ball or slither his way through the lane more methodically until he finds an opening.
Better chemistry with his teammates should be a boon for his passing. He has often seemed predictable when putting the ball on the floor at full bore, but running the two-man game with one of his bigs is clearly inside his wheelhouse.
In all honesty, I'm not quite sure what to make of his defense just yet. I'm also not sure it matters. His shot-making bag is deep and sleek. He doesn't need to take on the toughest covers to leave his imprint—though, if summer league is any indication, the Rockets won't shy from testing his mettle.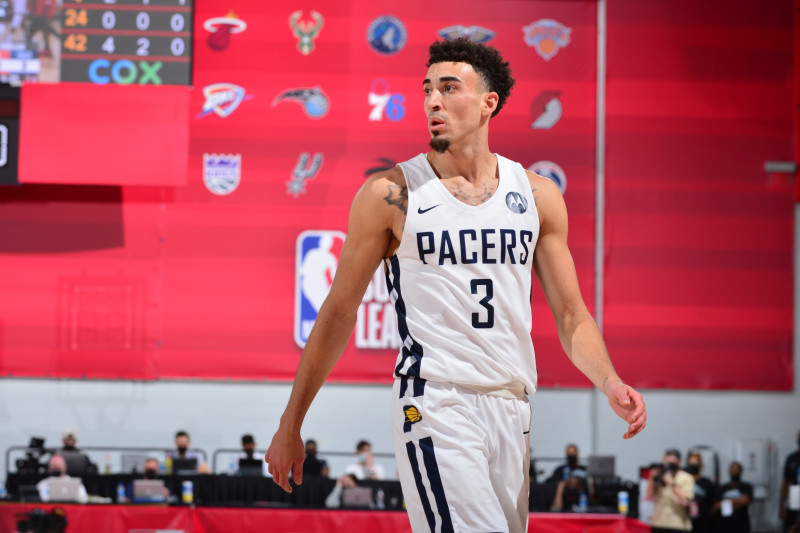 On the one hand, two summer league games aren't enough to render any indisputable verdicts.
On the other, Chris Duarte and Damian Lillard take the same daily vitamins.
Duarte has hit three buzzer beaters through his first two games in Vegas, including two three-pointers to end the second and third quarters during the Indiana Pacers' Tuesday loss to the Atlanta Hawks. These aren't exactly on par with playoff-series winners, but still: Holy hell.
The hype isn't building solely off his late-clock heroics, either. Duarte has flashed a little of everything. His made buckets have been heavy on off-the-dribble triples, some of them in transition, but he's converted a handful of catch-and-shoot looks and drives to the hoop punctuated by finishes through contact and head fakes after he picks up his dribble.
Drooling over summer league defensive performances is shady business. Let's do it anyway. Duarte looks like someone who will effectively party crash two to three passing lanes per game away from the ball. His anticipation has largely been on point, even if a little risky at times, and those apparitions into opponents' sight lines should be a boon for Indy's transition attack.
Will the Pacers lean on him right away? It's tough to say. They could be a playoff lock at full strength and have a bundle of other bodies to roll out at the 2 and 3 spots: Justin Holiday, Jeremy Lamb, Caris LeVert, T.J. Warren, Torrey Craig, etc. It helps that Duarte is 24, and that Indiana can treat Malcolm Brogdon as a point guard while sliding some of their other wings up to the 4, but meaningful opportunities could be scarce.
That's a conversation for another day (read: month). For now, Duarate is leaving one heck of a first impression: that of a player who seems ready for minutes now, and who has the encyclopedic skill set of someone bound to carve out a long, productive career.
Breakout Player Watch: Boston's Kids May Be Coming Along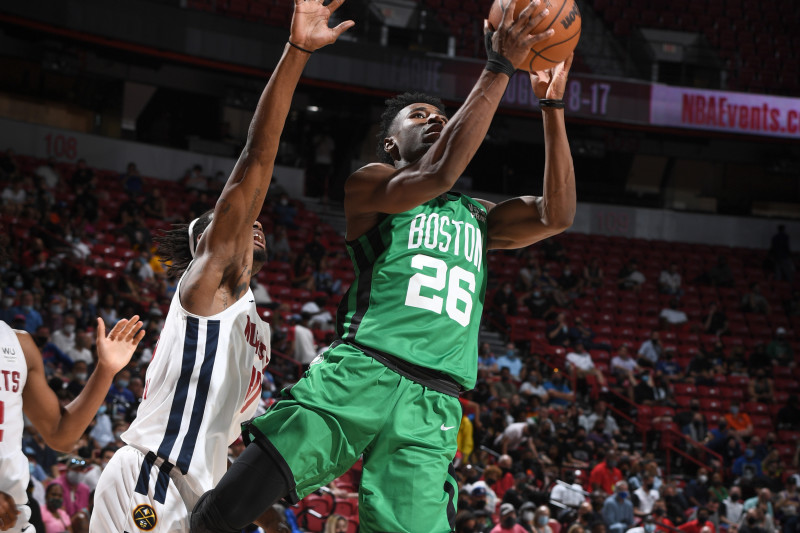 Bankable depth was hard to come by for the Boston Celtics last season. That figures to be the case again this year, unless one of their oft-forgotten kiddies goes kaboom, which is maybe, potentially, kind of looking possible.
Signing Dennis Schroder at a three-year, $78.1 million discount, per ESPN's Adrian Wojnarowski, does add more structure to the projected rotation. But it's far from settled.
Boston has seven givens: Schroder, Jaylen Brown, Al Horford, Josh Richardson, Marcus Smart, Jayson Tatum and Robert Williams III. These playing-time formalities stretch to eight or more if you're vibing Kris Dunn, Enes Kanter or Jabari Parker. There should nevertheless be ample opportunity for Romeo Langord, Aaron Nesmith or Payton Pritchard to earn consistent burn.
They're all doing their damnedest to get it.
Langford hasn't turned in an otherworldly performance, but the fact he's healthy at all is a big friggin' deal. This is his first summer league stint, and he threw down a monstrous slam in Boston's win over the Denver Nuggets on Tuesday, almost like he needed to remind everyone he's actually healthy.
Nesmith didn't turn many heads in his first summer league game. He sure did in his second one. He hung 33 points on the Nuggets while dropping in seven of his nine three-point attempts. His overall shot profile was a nice blend of off-the-bounce jumpers, quick-fire threes off the catch and buckets coming out of traffic.
Pritchard, meanwhile, played well enough versus Denver for people to call him "White Kyrie." First off: Please, for the love of everything, don't do that. Stick with Fast PP. Or come up with literally anything else.
Moving right along, though, Pritchard's 21-point, 12-assist, eight-rebound outing was certainly impressive enough to wonder whether he'll win the "Next guard up" mantle behind Richardson, Smart, Schroder and, if you consider him a 2, Brown. He tossed an assortment of pretty passes, put defenders on tilt with medium-speed handles and sprayed in five threes, both off the dribble and the catch.
If nothing else, the Celtics' primary prospects are teasing strides big enough for the team to overvalue them in future trade talks like Danny Ainge never left. That's pretty huge.
Breakout Player Watch: Sharife Cooper Already Looks Like a Caps-Lock STEAL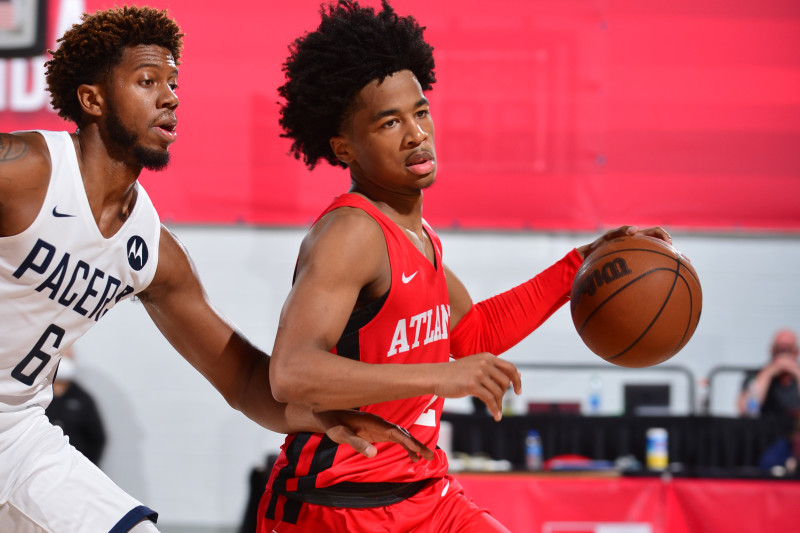 Loads of people were shocked Sharife Cooper fell all the way to the Atlanta Hawks at No. 48.
Sure, he knocked down just 35.0 percent of his two-point jumpers and 22.8 percent of his threes at Auburn, per Hoop-Math. And yes, he's "only" 6'1″. But transcendent orchestration out of the pick-and-roll is hard to find, and he forecasts as someone who provides it. Bleacher Report's Jonathan Wasserman had him coming off the board at No. 24 in his final mock.
Still, Cooper's draft-day fall implied more concerns about his potential effectiveness at the NBA level. Never mind that he converted 82.5 percent of his free throws. The outside shooting was, it seems, a red flag many teams weren't willing to overlook.
And it appears that's going to be great news for the Hawks.
After uncorking only one three-point attempt (and missing it) in his summer league debut, Cooper made five of his eight deep balls against the Pacers on Tuesday, including what proved to be the game-winning bucket from the right corner—a shot Trae Young loved so much he (illegally) stormed the court once it hit the bottom of the net.
"You tell me I can't do something, you best believe I'm working on it," Cooper told NBA TV's Dennis Scott afterward.
A singular detonation in an exhibition game isn't prognostic or all-revealing. But Cooper's accuracy in college at the foul line always suggested he could reach a higher level from the perimeter. If he even sniffs league-average efficiency and volume from behind the rainbow, Atlanta will have likely bagged the biggest steal of the entire draft.
Whether Cooper gets the opportunity to overturn his outside limitations in the regular season remains to be seen. The Hawks fancy themselves fringe contenders and have Lou Williams, Delon Wright and even Bogdan Bogdanovic to pilot the second-unit offense. Twenty-year-olds also seldom factor into the rotation of should-be playoff locks. Cooper could spend a lot of his time shuttling to and from the College Park Skyhawks.
Then again, Atlanta's backup point guard carousel is hazy enough that he could get a bite at semi-regular minutes. Bogdanovic, Williams and Wright are more secondary playmakers than floor generals.
Regardless, though, "Steal of the Draft" isn't a superlative that should be awarded out of the gate. It takes years to understand how a rookie class unfolds. That Cooper has already hinted at strengthening his largest weakness is an encouraging sign both for what it could mean now and later.